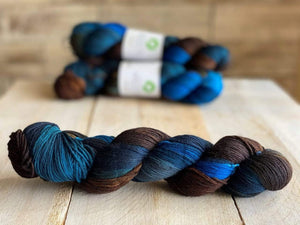 Biscotte
Biscotte Yarns, Bis-Sock Polychrome yarn, 85% hand washable merino wool and 15% nylon, 100g #1 Fingering Weight
Regular price
$30.00
$0.00
This stocking yarn from our P O L Y C H R O M E collection of hand dyed wool is made from 85% hand washable merino wool and 15% nylon.
Unmatched softness, you will want to do more than just stockings: shawls, mittens, baby clothes!
Each skein contains 100g (2x50g) of wool, 400 meters of yarn. This is more than enough to knit a pair of adult socks.
Use 2.25 to 2.75 mm needles for a sample of 28 to 32 stitches = 10 cm.
Hand wash in cold water and lay flat to dry.
IMPORTANT NOTE:  
The random nature of the Marmicelle and Polychrome color production techniques makes it impossible to achieve two identical stockings and / or a uniform color knit even using two skeins from the same batch. It is recommended to alternate the rows between the skeins when making your projects such as shawls, cardigans, etc.
---
More from this collection