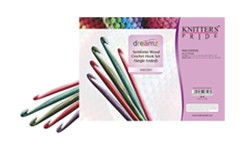 N. Jefferson Ltd
Knitter's Pride Dreamz Crochet Hooks Set (Single Ended), 600150
Regular price
$57.00
$0.00
Knitter's Pride Dreamz Needles
The bright and cheerful Dreamz needles are a must have for any knitter. A perfect blend of colorful vibrance and flirtatious beauty, these needles are designed to inspire creativity. A treat for the eyes and an absolute pleasure to work with, these colour-coded needles are easy to distinguish and you'll never feel monotonous!
Dreamz Single Ended Crochet Hooks Set:
Includes Set of 8 hooks US Sizes E, G, 7, H, I, J, K & L (3.5, 4.0, 4.5, 5.0, 5.5, 6.0, 6.5, 8.0 mm) in Clear Vinyl Case.
Dreamz crochet needles are designed by people who know and understand the art of crochet.
Hand crafted by skilled artisans
Available in a palette of beautiful colors -easy to identify and organize
Polished wood surface insures effortless glide - works with every type of material
Easy to connect cord with smooth join means easy stitch flow - no snagging
Resilient, flexible cord lays flat
---
More from this collection