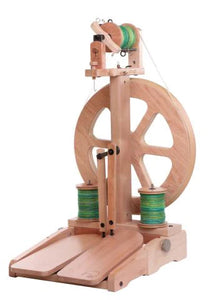 Cosy Yarns and Gifts
Spinning Wheel Classes, Adults only- Instructor Reena
Regular price
$188.00
$0.00
Spinning Wheel Classes, Instructor Reena
Beginner spinning, 6 sessions 2 hours each.
Starting with a few sessions on a drop spindle, you'll learn the basics of spinning yarn.
After you get a feel for how the process works (slowly: on a spindle!), you can apply your knowledge to the spinning wheel.
We will discuss fiber preparation (carding and combing) as well as different styles of spinning. There will be different spindles to try, different fibres to try to spin, books to look at, and most importantly: ideas for what to do with all the yarn you create! 
Basic drop spindle for each student (included in price), Wheel for each student (rental with option to purchase) 200 g of fiber (roving) for each student included with option to purchase more.
 Please Note:
Class is limited to 6 Students. Please register on-line to secure your spot. 

 3 students is the minimum for this class to proceed. 
All lessons must be paid within 48 hours of enrolment in order to reserve your space. Lessons do not include materials (unless otherwise specified). 

After the class starts there will be no refunds or make up classes unless (with the discretion of the teacher) you are ill or otherwise incapacitated. 
 ALL CLASSES ARE HELD IN OUR STUDIO AT
Cosy Yarns and Gifts
#209-810 Quayside Drive
NEW WESTMINSTER BC
604-220-4794
---
More from this collection