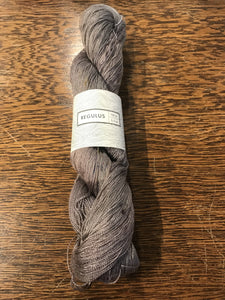 Vegan Yarn
Vegan Yarn, Regulus, #0 Lace Weight
Regular price
$29.99
$0.00
Regulus Lace is our newest addition to our yarn bases.
This time we went with lyocell (Tencel), and we're so glad we did!
Lyocell is a regenerated sustainable fibre made from fast growing Eucalyptus on tree farms. It is made using a closed loop system that recycles about 98% of the non-toxic solvents used. This process won the "European Award for the Environment" by the European Union. It is also silky smooth, and has fantastic drape. Airy, light and drapey. Regulus Lace is a dream to knit with. Highly recommended for weaving, lace knitting, and light, summer garments. 
100% Tencel (lyocell)
8/2 Lace
677m/740 yds
100g/3.5 oz
Gauge Specs:
30-38 sts = 4"/10cm
Recommended needle size: 2mm/0 US - 3mm/2 US
Sett: 15-30 epi
Hand dyed in small batches with low-impact, non-toxic dyes.
To see what other people have made with Regulus Lace visit:
https://www.ravelry.com/yarns/library/vegan-yarn-regulus/projects
---
More from this collection